56TH GRAND CHAPTER CONVENTION HIGHLIGHTS
The 56th Grand Chapter Convention was held in Chicago on June 14 - 15, 2013. The meeting took place at the Allerton Hotel which is located just a few blocks away from the Northwestern University School of Medicine which is where the Alpha chapter was founded.
Highlights of the meeting included: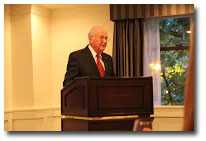 Presentation of the Irving S. Cutter Medal to Dr. Melvin Sigel of Minneapolis, MN. This medal is given to an member of Phi Rho Sigma who has made an outstanding contribution to medicine. A graduate of the University of Minnesota and a member of Theta Tau chapter, Dr. Sigel has been active in the Federation of State Medical Boards and led the organization as President. He was also twice President of the Minnesota Board of Medical Examiners.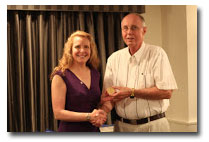 Dr. Alan Adler, Indiana University, 2011 Griffin Medal recipient for service to the society spoke about the changes that have taken place in Phi Rho Sigma during his years of membership. He cited the admittance of women to membership, the change from being known as a fraternity to a society, and the formation of the Phi Rho Sigma Foundation.


"From Medical School to Residency" was presented by Dr. Christy Benson, University of Iowa.

A discussion of Social Media, Physicians, and Professionalism was facilitated by the following Undergraduate members of the Executive Council: Dr. Matt Downen, University of Iowa, Joe Wheeler, University of Nebraska, and Juan Reyes Genere, University of Minnesota.
NATIONAL OFFICERS ELECTED for 2013-2015
President - Elisabeth Righter, M.D., Alpha Upsilon
Vice President - Gary Leroy, M.D., Alpha Upsilon
Vice President - Gabriel Cuka, M.D., Iota
Secretary/Treasurer - Julie Best, M.D., Pi
Historian - Casey Drake, M.D., Iota
Editor - Sheryl Mascarenhas, M.D., Alpha Upsilon
Undergraduate Delegates - Michael Jung - Alpha, Michelle Pequet - Eta, Siri Hill - Theta Tau, LaTashia Irving - Alpha Nu
Undergraduate Alternate Delegates - Priya Larson - Theta Tau, Brennan Tesdahl - Mu, Alyssa Newton - Zeta, Ben Grams - Iota, Joe Giacalone - Mu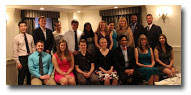 Additional members of the Executive Council appointed by the President include:
Advisory Council Representative - Dr. Worthe Holt
New Physicians Chair - Dr. Christy Benson
Social Media Chair - Joe Wheeler
Councilors Chair - Dr. Matt Downen
Chapter Communications Chair - Juan Reyes Genere
McLain Research Award Chair - Dr. Wade Swenson